Like many Canon shooters I've been long awaiting a new higher resolution, full frame camera body. Last fall, I could almost wait no longer and briefly considered making the switch to the Nikon d810. I held off making any bold moves until this winter when the announcement of the 5DSR came down the pike. Like many, I wasn't overly excited to read that there would be no real improvement in the dynamic range of this new body, something landscape photographers have been drooling over since the dawn of time. With a lot of trips and a ton of shooting to do between now and June (reportedly when the new 5DSR will start shipping) I decided on a stopgap measure. I purchased a Sony A7R, something I'd been considering for the better part of the last year.
There is a ton of information and many reviews of this camera online so I won't bore you with a comprehensive review and list of features, as well as shortcomings. I find those things useful, but even more useful are the real world shooting impressions from folks out in the field using the equipment. I purchased the camera with enough time to test it before leaving for Patagonia to co-lead a tour with Ian Plant and Epic Destinations. I packed my usual kit of 5DIII (along as backup and wildlife for this trip), EF 16-35mm f4L, EF 24-70mm f2.8L II, 70-200 f2.8L II, and an assortment of grads, polarizer and ND filters, plus the new to me Sony A7R with Metabones IV adaptor. I figured shooting with this system for 2 weeks in Patagonia would provide ample opportunity to determine if it's a good fit for me, and the way I work. So here it is, and in no particular order.
Impressions:
-Robust build and construction, more than up to the style of shooting I usually do. Having said that, I haven't yet put this camera through its paces along the coast with lots of waves and sea spray. I have no reason to believe it's not up to the task however.
-The image quality is superb and the dynamic range is amazing, which is the main reason I bought the camera. In fact, it's changing my entire workflow when shout high dynamic range scenes. Now I'm able to expose for the highlights and have no problem opening up underexposed shadows by a couple of stops without any ill effects. In fact, once I learned to trust this new approach I didn't use a grad or need to bracket for the remainder of the trip. It really is something that has to be seen to be believed, especially if you're a Canon shooter that's used to seeing some hideous artifacts appear in opened shadows.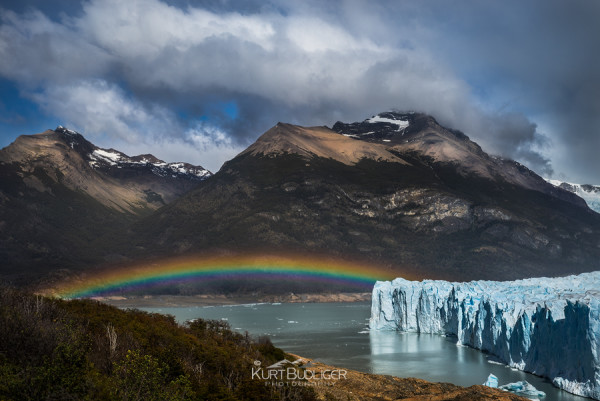 "Perito Moreno Rainbow," Los Glaciares National Park, Argentina  Sony A7R, 42mm ISO 100 f11 @ 1/125 sec. 
-It's super lightweight and compact, even with the adaptor and L bracket from Hejnar the camera is almost ½ the size and weight of my 5DIII.
-I loved having the articulating LCD for low level compositions. In fact, I forgot it was available and it was like x-mas each time I remembered to use it.
– The Metabones IV adaptor is bomber, fits snuggly, with no light leaks or issues for me. However, it pretty much makes autofocus with my Canon glass impossible. That's not a big deal for me because this camera will really only be used for landscape shooting and I always manually focus in live view.
-Shutter shock is real. I did a bunch of testing before I left on the trip and determined that I need to shoot slower than ¼ sec and faster than 1/200 (even faster is better) when using focal lengths above 100mm. It's also a good idea to shoot multiple frames each time to ensure one that's sharp. Yes, it's extremely annoying, and one could make the argument that it's completely unacceptable. However, it is possible to work around these shutter speeds by adjusting your ISO, aperture or adding/subtracting filtration. I can't imagine this won't be sorted out in the next generation of body. In fact, I noticed a real necessity to use impeccable technique with this camera at all focal lengths. It's easy to get softer images when you're sloppy or rushing around. This has been true since forever, but it's really noticeable with this sensor.
-Everyone complained about dust on the sensor being a huge problem. I simply didn't find it to be an issue. I changed lenses a lot on the trip, in some very windy conditions too. Sure there was dust but turning the camera on and off several times usually took care of it. It's a little disconcerting when you dismount a lens and the sensor is right there in all its exposed glory, made me feel a little like a peeping Tom.
-Battery life, yup is sucks. Is it a deal breaker? Not for me. I bought 4 extra batteries for the set up (5 total) and during most shooting days I didn't need more than one and never more than two. This was for general landscape shooting as I'm not a spray and pray kind of shooter. I tend to be very selective. The temps weren't terribly cold so it's fair to say battery life will be even worse in cold temps. The reality is that every time you want to compose or "look" through the lens the camera has to be on, in live view. I also did a fair amount of chimping while on the bus going to and from shooting locations, something I don't normally do with my 5D. I simply don't think it's as big a deal as everyone made it out to be. The batteries are relatively inexpensive and very small. We've all become accustomed to long battery life the past couple of generations; remember the first digital cameras we all bought in 2004? Enough said.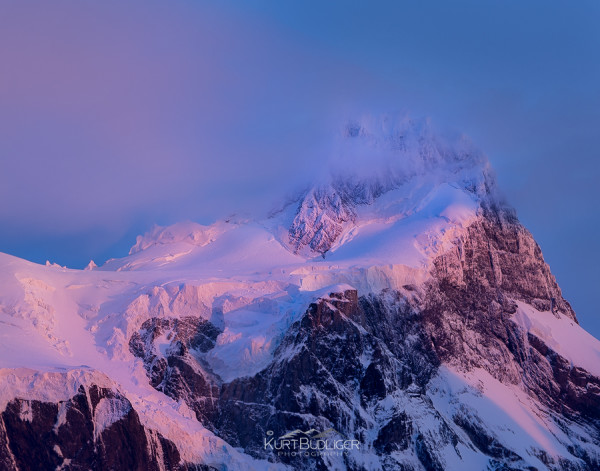 "Paine Grande Cloud Light," Torres del Paine, Chile  Sony A7R, 222mm, ISO 50, f8 @ 1/3 sec.
-Live view is really good in normal light, but not as good as the canon 5D. In fact, it's really not very good in low light, making composing and focusing somewhat of a challenge. The other oddity I noticed (and maybe there's an option to enable that I haven't discovered) is that you can stop the lens down for depth of field preview without issue, but you can't while zoomed into the frame. This makes checking critical portions of the image all but impossible until you take a shot and review the image afterward. It's not a huge issue but kind of bazaar.
-Focus peeking- I thought I'd be a big fan of this feature but in the end for my landscape work I'm not using it that much, mostly because you really can't trust it's accuracy for distant subjects that fall into the depth of field at a given aperture. It's great when you focus on a close subject, and I'll probably use it for macro work and the odd manually focused grab shot or documentary image.
-Electronic view finder- it's taking a while to get used to it and I'm really not a big fan at this point. Call me old fashioned but I still like looking through my SLR view finder more. Having said that, it's pretty handy to get a live view image in the view finder, which also allows for a live histogram as well as the ability to zoom into the frame for focusing. It's also kind of nice to be able to review your image through the eyepiece in bright light rather than on the rear LCD.
-Menus are easy to navigate and there are a ton of ways to configure the buttons and dials for how you shoot. It was pretty easy to get this camera set up and I felt very comfortable using it in the field right out of the gate. In fact, I barely picked up my 5D on this trip and when I did it took me a second to remember where a few functions were.
-Being able to shoot in a crop mode is pretty handy and still gives you a very large file. I love long lens landscapes and chose to leave the 100-400mm at home, instead switching over to crop mode on my 70-200mm (which is way sharper anyway) if I needed the extra reach.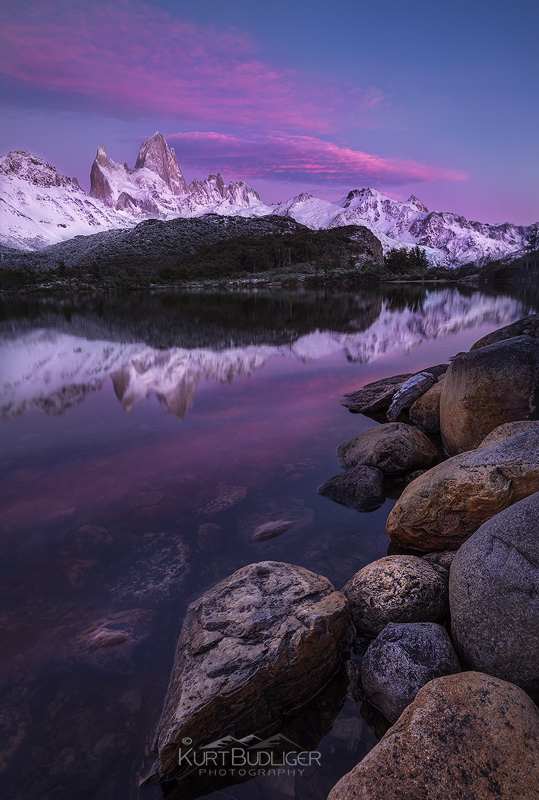 "The Looking Glass," Los Glaciares National Park, Argentina  Sony A7R, 20mm, ISO 100, f16 @ 3.2 sec. (single raw file, no grad or blend)
Conclusion (sort of):
So here's the bottom line; I love this little camera. Are there things I wish were different or better? Sure, but that's been true for me with every camera I've ever owned. Based on my experience using the A7R in Patagonia for 2 weeks and the quality of the image files, I can honestly say this will be my go to camera for landscape shooting for the foreseeable future. In fact, I wish I had picked one up sooner.
I'm not saying that I'm fully converting my kit over to Sony anytime soon but I feel like this is a great bridge option for any Canon landscape shooter who is not overly thrilled with the recently announced 5DSR. I purchased my Sony A7R used, in like new condition, for $1,300.00 from B&H Photo. Add in the Metabones IV adaptor, the Hejnar L bracket, a charger and 4 extra batteries and the price was barely $2K. That's $2K less than what you'll spend on the new 5D in June. I'll no doubt be eager to see what Sony has accomplished when the rumored A7R II comes out later this year. At a reported 50MP, if it maintains the superior dynamic range that exists in the A7R then I'll no doubt look very seriously at picking one up. In fact, if the price point stays the same as it was for the A7R when it was released, I could pick one up new and still be on par for what I'd have to spend on the new 5DSR this summer.